Chhena Poda
ଛେନା ପୋଡ଼
---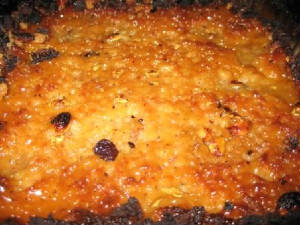 About the Recipe
Odias staying away from Odisha miss Chehena Poda a lot. Because it's not available in the sweetmeat shops elsewhere, as is the case in Odisha. This way of making a sweet delicacy out of pure cheese by using the traditional baking method, is still followed in the state. But what we present here, is a slightly modified method of making it, for the sake of your convenience.
Ingredients
3 cups(850 gms) ricotta cheese(chenna)
(or home made cheese) 3 tbsp semolina (sooji)
1 cup sugar(chini)
½ cup brown sugar/Jaggery (guda)
1 teaspoon cardamom powder(gujarati)
8 pieces roasted cashew nuts (kaju)
15 raisins (kismis)
100 gms butter-unsalted (optional)

Method
Mix the ricotta cheese, semolina, sugar and brown sugar in a big bowl. Use a hand mixer to make a smooth batter. Then add a butter stick (optional). Mix it again; add cardamom powder, roasted cashew nuts, and raisins to the smooth batter. Pre heat the oven at 350 ºC, grease the container with butter and pour the smooth batter to the container and bake the cheese for 40-45 mins until the top turns light brown in color at 350 ºC . Then use broil for 2-3 mins to get a baked (podo) look on the top. Take out the container and allow it to cool down. Cut into pieces and serve. (Tips: 1. Adding brown sugar or jaggery gives a typical authentic look and taste to the chenna podo.2. While cooling down the chenna podo, make sure to cover the container with a foil, so that the chenna podo will remain moist).
You may also see a video of the recipe of Chhenapoda at the following link.
Contributed by
Minati Satpathy
Video of the Recipe
Your Feedback Please
All Feedbacks
Anima Sahoo - "We only purchased it from a sweet shop in Puri. It was really authentic. Never thought I could make it at home. I will try it some day."
Sunita Priyadarsini - "Its the identity of Odia sweets."
Padmalochan - "I like chenna poda."
Dilip Das - "I like chenna poda very much and thanx for sharing the procedure."