Dala Khechidi
ଦଳା ଖେଚୁଡ଼ି
---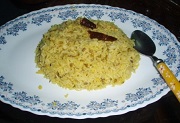 About the Recipe
Khichdi is a common and well known way of cooking rice along with pulses. We present here a typical way of preparing 'Dala Kechidi' which is popular particularly in the Baripada area of Odisha. It is also served as the daily offering in the Shri Jahannath temple in Baripada.
Ingredients
250 gms rice (chaula)
200 gms half-crushed green gram/ moong dal (muga dali)
1/2 tea spoon turmeric powder (haladi gunda)
1 table spoon cumin seeds (jeera)
1 pinch asafoetida (hengu)
100 gms pure ghee (gua gheea)
3 to 4 red chillies (sukhila lanka)
2 bay leaves (tej patra)
2 inches cinnamon (dalchini)
4 to 6 cardamom (aleicha/ gujurati)
salt to taste

Method
Wash rice and moong dal properly. Then add 2 to 3 teaspoon pure ghee and turmeric powder. Mix well and spread on a plate to let it dry for 10 minutes. Crush cinnamon and cardamom well to prepare garam masala powder. Heat the pressure cooker and put the rest of pure ghee into it. (In the traditional kitchen it is supposed to be cooked in an open pot; however pressure cooker may also be used). Add the cumin seeds. Then add bay leaves and red chillies. Also add a pinch of turmeric powder. As it starts to crackle add the rice mix into it. Stir for about one minute. Then add water. Ensure that the quantity of water added is almost the double of quantity of rice and dal mix. Add salt to taste. Also add the garam masala powder into mix. Then put the lid on the pressure cooker. Cook it on medium flame. After one whistle put off the flame. Open the lid after some time. You may also add a little pure ghee at this stage. Serve hot. (Best to serve it with Raam Rochak Tarkari, the recipe of which is mentioned below).
Contributed by
Jyotsna Mohanty
Your Feedback Please
All Feedbacks