Mansa Jhola
ମାଂସ ଝୋଳ
---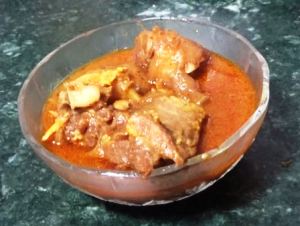 About the Recipe
Mutton serves as one of the favorite items among the traditional Odia dishes. This particular mutton curry which we mention here, is rather known as "Mansa Jhola". The word Jhola signifies the juice or soup. So you would find that, this dish is a bit soupy and one should rather enjoy the taste of the juice of the curry, more than the mutton itself. So we suggest that you should also put a small spoon in the serving bowl, so that your guest finds it convenient to have a sip of the juice while enjoying this dish of mutton.
Ingredients
½ kg mutton ie, goat meat (mansa)
5 medium sized onions (piaja)
2 medium sized potatoes (alu)
5 inch ginger (ada)
10 garlic cloves (rasuna kola)
3 teaspoon turmeric powder (haladi guda)
2 teaspoon chili powder
2 bay leaves / tej patta (teja patra)
2 dry chillies
2 small cinnamon sticks (dalchini)
5 small cardamoms/ chhoti elaichi (aleicha)
4 cloves / loung (labanga)
1 teaspoon black pepper / kali mirch (gol maricha)
2 table spoon mustard oil (sorisha tela)
salt to taste (luna)

Method
First of all marinate the mutton by applying teaspoons of turmeric powder and a little salt to it. Leave it to be marinated for about 15 minutes. Then dry fry the cinnamon (dalchini), cardamom (elaichi), cloves (loung) and black pepper (kali mirch) together on a frying pan for only two minutes and then make a rough powder of the same and keep it aside. Cut the onion and ginger into medium sized slices. Now make a paste (batter) of the onion, ginger and garlic cloves mixed together, by using a ginder/mixer. Please remember to keep aside about one tablespoon of sliced onions separately, before the grinding. Now put the pressure cooker on flame. Add the mustard oil and let it heat up. Then add the bay leaf (tej patta), the remaining onion slices and dry chlli and saute for a while. go on stirring till the onion turns golden brown. Then add the pasted mix of onion, ginger and garlic. Also add turmeric powder and chili powder and salt to taste.. Stir further for about two to three minutes. Now carefully add to it the marinated mutton. Also add the potatoes, cut into two halves (Do not cut the potatoes into small pieces). Then stir it all for about two minutes. Now add about 3 to 4 cups of water, or as desired by you. Also add the powder of dalchini, elaichi, loung and elaichi which you made earlier. Then cover the lid of the pressure cooker. Let it be cooked in the pressure cooker for about 15 to 20 minutes on medium flame. Even after switching off the flame don't open the lid of the pressure cooker immediately, and rather let it remain closed further for about 5 minutes, Your Mansa Jhola is ready now. Serve it hot with rice or chapati.
You may see a video of this recipe at the link below.
Contributed by
Sarita Tripathy
Video of the Recipe
Your Feedback Please
All Feedbacks