Kanji
କାଞ୍ଜି
---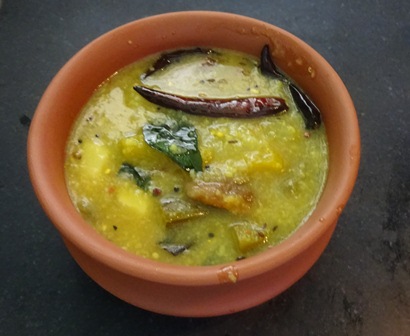 About the Recipe
Kanji is an age-old dish of Odisha, especially in the southern districts. It has the goodness of vegetables combined with the drained out water of cooked rice. A littled bit of dried mango or mango powder added to it renders it a mild sour taste. It should be taken more for its nutritional value than taste.
Ingredients
Rice (Chaula)
Vegetables:
Raw papaya (Kancha Amrutabhanda)
Brinjal (Baigana)
Taro ( Arbi / Kuji Saru )
Pumpkin (Kakharu)
Lady finger (Bhendi)
Radish (Moola)
Green chillies (Kancha Lanka)
You may also substitute some of the vegetables as per your choice
Other Ingredients:
Garlic cloves (Rasuna)
Panch Phutan (Pancha Phutana)
Asafoetida (Hing / Hengu )
Dry chillies (Sukhila Lanka)
Curry leaves (Methi Neem /Bhursunga Patra)
Turmeric powder (Haladi Gunda)
Chilli powder (Lanka Gunda)
Salt to taste (Luna)
Dry mango (Sukhi Ambia / Ambula)
(Else Amchur powder may also be used)

Method
First of all soak two table spoons of rice in water for two hours. Then let us slightly crush the soaked rice; don't make a fine paste, it should be rough one. Keep it aside. Then let us cut the vegetables into medium sized pieces. Now cook some raw rice for the purpose of extracting the drained out water from it. It's called Mand in Hindi and Peja in Odia. After cooking the rice let us separate the watery part from it. Then let us also add some more water to the drained out water to it for the purpose of diluting it. Then it is to be heated in a pan. Thereafter add the vegetables. Also add turmeric powder, chilli powder and salt to taste. Now we add to it the crushed rice which we prepared earlier. Then also add to it two pieces of Amula. If you don't have the Ambula you may also manage with the Amchur powder which is easily available in the market. Stir it for a while and then cover it. Let it get cooked for some time on low flame. Now we slightly crush the garlic cloves and start preparing the seasoning. It's called Tadka in Hindi and Chunka in Odia. For this let us take a little oil in a pan, heat it, and then add Panch Phutan (a mixture of five kinds of condiments), Curry Leaves, Red Chilli, Hing and the crushed Garlic Cloves. And the add it all to the pan of boiled vegetables. Heat it further for a few minutes. Now your Kanji is ready. Serve it hot with rice.
Contributed by
Sanjukta Satapathy
Video of the Recipe
Your Feedback Please
All Feedbacks
Dr. Bijoy Das - "We call curry leaves, chhuncha neempatra in Paschim Medinipur district of West Bengal state. We eat pokholo but not kanji."