Poi Rai
ପୋଇ ରାଇ
---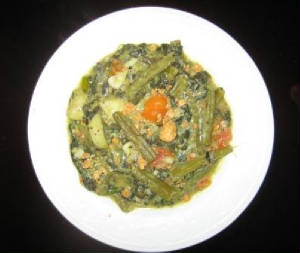 About the Recipe
'Poi' is a leaf vegetable which is also known as Vine Spinach or Malabar Spinach elsewhere. In India it finds place in the food traditions of West Bengal, Odisha, Karnaka and Maharashtra states. We present here one way of cooking Poi in the "Rai" form, which is followed in Odisha.
Ingredients
poi (bachali kura / pohi) leaves and stems (poi saaga)
2 potatoes (aalu)
2 raw bananas (kancha kadali)
1/4 of a medium size pumpkin (kakharu)
2 brinjal (baigana)
3-4 Colocassia/ Taro (saru)
1 Tomato (optional) (tamatar)
1 small onion - finely chopped (piaja)
5-6 cloves garlic - crushed (rasuna)
1 teaspoon turmeric powder (haladi gunda)
salt to taste (luna)
1 teaspoon panch phutan (pancha phutana)
10 to 15 badi - fried (gently crurshed) (badi)
1 tablespoon refined oil- 1tbs (Tela)
1 or 2 dry red chillies (sukhila lanka)
mustard oil –add before serving for flavor (sorisha tela)
To make the masala paste: 1 tablespoon mustard seeds (sorisa)
1 tablespoon cumin seeds (jeera)
8 to 10 pieces green chillis (kancha lanka)
10 garlic cloves (rasuna)
1 small onion (piaja)

Method
Cut poi leaves and stem into small pieces. Then steam it for 3-4 minutes (or until the stems are little soft) and drain out the water. Take 1 tsp of oil in a pan and fry poi leaves and stems for couple of minutes. Then make the fine paste of the mustard seeds, cumin seeds, green chilles, garlic and onion. Take a kadai, put the masala paste and add some water to it. Add turmeric powder and salt and allow it to warm it for 2-3 minutes over medium flame. Then add the cut vegetables to the warm masala water and cover the kadai. Let the vegetable cook for 3-4 mins. Don't allow it to over cook. Then add poi leaves and stems and allow it to boil for couple of minutes more. Keep the boiled vegetables aside. Put a frying pan on a medium flame, add 2 tsp of oil, add pancha phutana, let it splutter, add red dry chillies, crushed garlic and finely cut onion, occasionally stir until they are golden brown. Finally add the boiled vegetables with masala to the phutana mix and season with mustard oil and serve hot with rice. To keep the crunchiness of Badi, add it before serving. (Or you can add whole fried badi while adding phutana). It's a low fat and nutritious dish which is very commonly prepared in Odia kitchen. VARIATION: In place of poi, khakharu saga (pumpkin leaves) and stem can be used. With kakharu saga, garnish the dish with grated coconut. To make it non vegetarian dish, fried prawn (chingudi) or small fish (chuna macha) can be added to it.
Contributed by
Shubhra Mishra
Your Feedback Please
All Feedbacks
Rojalin - "I always confused about rai and besara. This recipe having very light healthy,tasty 😋 "