Gota Potal Bhaja
ଗୋଟା ପୋଟଳ ଭଜା
---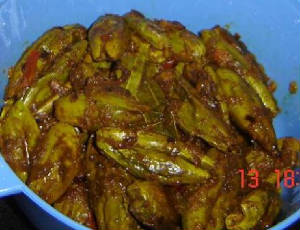 About the Recipe
Pear guord (parwal /potal) is a common vegetable available in all regions of India. Its recipes also vary from place to place. In Odisha 'Potal Rasa' is the most typical recipe involving this vegetable. However 'Gota Polal Bhaja' is a recent addition in the culinary tradition of the state, in which mashed potato is stuffed into the pear gourds leading to a deliciously combined taste of both the vegetables.
Ingredients
6 pear gourds (parval / potal)
2 spoon refined oil (refine tela)
1/2 teaspoon turmeric powder (haladi gunda)
1 medium sized boiled potato (gota sijha alu)
For stuffing:
2 teaspoon poppy seed (posta)
1 medium size onion finely sliced (piaja)
5 cloves of garlic chopped (rasuna)
1 teaspoon cumin seeds (jeera)
1 dry red chilli (gota sukhila lanka)

Method
First peel all the parvals and wash throughly.Then cut one side of the parvals and remove all seeds from inside. Then mix the seeds with all masalas for stuffing. Mash the boiled potato after removing the skin. Now place a pan/kadai on the gas-stove and after heating put oil and masala paste with mashed potato and add turmeric powder and salt to taste. Fry upto 3 minutes. The stuffing is ready. Keep it aside. Then take 1/2 tea spoon of salt and a pinch of turmeric powder with little water and spread it thoroughly inside the parvals through the opening made by cutting one side of each parval. After that fill these parvals with the stuffings. Then put a the pan /kadai on the gas-stove, heat oil and then put the parvals and cover the pan. Cook it on medium flame. After 5 minutes just stir gently and cover it again. 10 minutes later switch off the gas. Stuffed parval is ready. May be Served with rice or roti.
Contributed by
Sandhya Panigrahi
Your Feedback Please
All Feedbacks
R. K Sinha - "It is a nice idea for the preparation. I prepare but in Bihari style. I will try it. I was in Odisha for five years. "