Ouu Khata
ଓଉ ଖଟା
---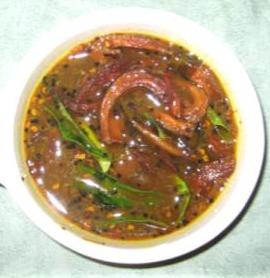 About the Recipe
Elephant apple or Ouu, as it is known is Odisha, is a sour fruit . So jaggery or sugar is added to it while cooking to get a sweet-n-sour taste. Ouu Khata is a typical recipe of Odisha, which is not found any where else.
Ingredients
1 elephant apple (ouu)
1 small piece of ginger thoroughly minced (ada)
2-3 red chillies (sukhila lanka)
1/2 tsp mustard seed (sorisa)
30 gms jaggery (guda)
1/4 tsp turmeric powder (haladi gunda)
2-3 tsp of refined oil (rifain tela)
Salt to taste (luna)
Curry leaves (bhrusanga patra)

Method
Cut the ouu (elephant apple) into small pieces. Heat oil in a frying pan over a medium heat. Add mustard seeds and let them splutter. Add curry leaves, red chilies and minced ginger and fry it for 2 minutes. Add cut ouu pieces, turmeric powder, salt, and mix it properly until ouu becomes light brown in colour. Then add water, jaggery and cover the pan over a medium heat until the ouu is properly cooked. Serve hot as a side dish with rice. You may also garnish the dish with shreded coconut before serving. In Orissa ouu is available in Oct-Nov (Kartika masa) and it is also used in habisha muga dalma. Ouu is rich in vitamin C and is mainly available in southeastern Asia. Its botanical name is Dillenia indica.
You may also see a video of this recipe at the link below.
Contributed by
Minati Satpathy
Video of the Recipe
Your Feedback Please
All Feedbacks
Durgaprasad Acharya - "Very good classic odia recipe. "
Dr.Bandana Padhee - "I liked the recipe so will be trying tomorrow & let you know. Thanks for the recipe."