Manda Pitha
ମଣ୍ଡା ପିଠା
---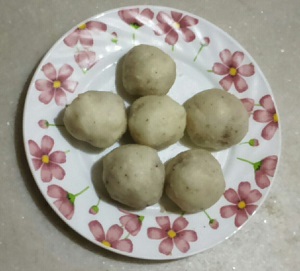 About the Recipe
Manda Pitha is a traditional delicacy prepared in Odia homes especially on the occasion of festivals. It finds prominence in the Manabasa Gurubar Puja held in the holy month of Margashir. The traditional variety uses steamed rice flour for outer covering and coconut and jaggery for the stuffing. Gradually, with the passage of time, certain modified variants have also come up where rice flour is replaced with semolina and jaggery with sugar. A truly typical Odia delicacy.
Ingredients
2 cups of crushed rice (chaula chuna)
3 cups of milk (khira)
1 cup of finely grated coconut (nadia kora)
¾ cup sugar (chini)
5-6 small cardamom (aleicha)
1 teaspoon black pepper powder (gol maricha)
salt to taste (luna)

Method
STUFFING: Mix finely grated coconut and sugar in a heated frying pan. Add cardamom and black pepper powder and mix thoroughly.
PITHA: Heat milk. Add salt to the milk. Prepare dough by adding crushed rice to the boiling milk. Stir it continuously and boil further until you get a thick dough. Keep the dough in room temperature and knead it by adding one spoon oil to make it more soft. Form 8 to 10 balls by rolling them with the help of your palms. Flatten each ball and place the stuffing in it. Close the flattened balls after putting the stuffing and carefully give them a rounded shape again. Steam the stuffed balls for 3-4 minutes in a steamer. Put them on a sizzler plate and serve hot. It may also be served in room temperature.
You may also prepare another variety of Manda Pitha where semolina (suji) is used instead of crushed rice. This is known as Suji Manda. Follow the steps mentioned above. But replace 2 cups crushed rice with 2 cups of semolina. However in this case use a little more milk (say 4 cups). For another kind of Manda in which wheat-flour is used, please refer to the 'Variation' section of Kakara Pitha published elsewhere on this website.
Also see a video of this recipe at the following link.
Contributed by
Sujata Satpathy
Video of the Recipe
Your Feedback Please
All Feedbacks
Pratima das - "This was my favorite in childhood. The one made with rice is more tasty than suji. Thnx for the recipe.. "
Aparajita - "But its easy to make with semolina. "
Anima Sahoo - "I remember my mom prepared it the best way. Her Manda was made of rice, not suji. And it tasted no less than a rasgulla."
Rimpy Yadav - "I don't have a sweet tooth but I liked this dish. Definitely need to try. "
Shamima Baig - "I just love manda pitha...during my last few days of my pregnancy...my maa came all the way to Goa from BBSR and asked me what I liked to eat...and my first word was manda pitha...she had made the nadiya pura from BBSR...she made the pitha...and I had it around 6-7 at the first serving..."
Archana Dash - "Plz mention how to make the stuffing nadia kora...u have not mentioned anything about it...."
Odia Recipes - "Thank you madam, for pointing out the error. The stuffing part was left out by oversight. Now it's rectified."
Madhusmita - "Chua belu mote ae pitha bahut bhala lage. Eta sawthya pai bhi bhala abong ati suadia."
Abdul quadir - "Today I followed your recipe and enjoyed the pitha @ saudi arabia."