Poda Pitha
ପୋଡ ପିଠା
---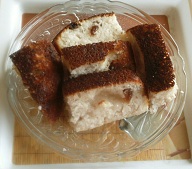 About the Recipe
The present generation of Odia children are perhaps deprived of enjoying a bite of Poda Pitha on the occasion of the Raja Festival, which the elders were privileged with. The traditional way of making Poda Pitha in a make-shift Chullah in which charcoal and dried cow-dung cake is used as fuel, is now a thing of the past. Modern day households would rather use a pressure cooker and the gas chullah, even though it means being deprived of the unique feel of the traditional kind of taste and flavor that Poda Pitha is associated with.
Ingredients
300gm Rice (chaula)
150gm black gram - without outer skin (chopa-chhada biri)
1 cup finely scrubbed coconut (nadia kora)
10-15 small pieces of thin coconut slices (nadia khandi)
200gm sugar (chini)
50gm chopped ginger (kata ada)
½ bowl of cashew nut – broken into pieces ( khandi kaju)
1 table spoon ghee or refined oil (ghia / refain tela)
½ teaspoon salt (luna)
1 teaspoon baking powder (baking powder

Method
Soak the rice and black gram in water in separate bowls for about 4 hours. Wash them thoroughly. Put the black gram with water in the grinder and form a fine batter. Do the same with rice too but keep in mind that the batter should be coarse and not as fine as the batter of black gram. Mix both the batters and add coconut slices, grated coconut, chopped ginger, salt, sugar, cashew nuts and baking powder. Mix all the ingredients well and keep it covered for about 2 hours for self-fermentation. Pre-heat the pressure cooker. Form a thin layer of oil on all the inner surface of the cooker. Now pour the mixed batter into the cooker and close the lid (without mounting the whistle-weight). Place the pressure cooker in simmer flame for about one hour. Now your hot poda pitha is ready. When the cooker comes to normal temperature take out the pitha carefully, and cut it into desired shapes and serve. (Note: Instead of pressure cooker, oven may also be used).
You may also see a video of the recipe at the following link.
Contributed by
Sujata Satpathy
Video of the Recipe
Your Feedback Please
All Feedbacks
Lokanath Swain - "This brings to memory the Raja podapitha my mom made at home. But she did it the traditional way. Not this pressure cooker type."
Prachi Gupte - "The Recipe is very nice . Thanx for sharing ."
Mano Ranjan - "Yes my odisha my odia and my poda pitha ......"
Anima Sahoo - "Raja poda pitha? We never used pressure cooker for this. But its easy. "
Y.Bharathi - "Very nice....easy to cook....thank you so much...."
Sumitra naik - "Very nice and yummy "
Pushpanjali - "Yummy and beautifully described."
Sonita - "Wow !!I loved this poda pitha "
Pushpanjali Barik - "Excellent preparation for Raja parba."
Sujata Patra - "Very nicely explained Thank you for your efforts "
Pagalo akash barik - "Very nice and sweet"
Pagalo akash barik - "Very nice and sweet"
Pagalo akash barik - "Very nice and sweet"
Pagalo akash barik - "Very nice and sweet"
Pagalo Akash Barik - "Very nice and sweet"