Khiri
ଖିରି
---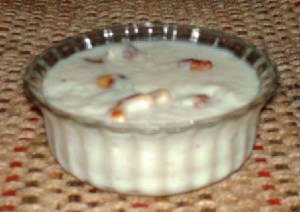 About the Recipe
'Kheer' is a common dessert which is popular in almost all parts of India. In Odisha it is known as 'Khiri' with a slight difference in the way it's prepared. Khiri is associated with the famous Jagannath temple of Puri, where it had been served to the deities as prasad for centuries together. It's an indicator that Khiri existed in Odisha since the time the Jagannath temple was built in the 12th century.
Ingredients
200 gm basmati or raw rice (arua chaula)
400 gm sugar (chini)
1 litre milk (khira)
25 gm cashew nut (kaju)
25 gm raisin (khismis)
4 bay leaves (teja patra)
5 cardamom (gujurati/ aleicha)
a pinch of salt (luna)

Method
Take water in a presure cooker and put the rice in it. Add salt and the bay leaves. Boil the same till first whistle. Remove the lid of pressure cooker only after the steam gets fully released in due course. Now take the bay leaves out of the boiled rice. Then boil milk in another container. Pour the boiled milk into the pressure cooker (You have also the option to add a little condensed milk / khoa at this stage). Add sugar and stir well. Now put the pressure cooker (without its lid on) on medium flame. Remember to go on stirring at regular intervals. As the contents start boiling, lower the flame and boil further for about 15 minutes. Continue stirring as before. At this stage add raisin, cashewnuts (broken into small pieces) and crushed/ powdered cardamom. As the contents turn semi-thick, switch off the flame. Your khiri is ready. Serve cold. Khiri (which is known as 'khir' in the Hindi belt) is a common dessert that's popular throughout the country. But what remains unknown is that this recipe originated from Puri in Orissa. Yamuna devi, a popular cooking writer stumbled upon this 2000 year old recipe while going through the old records in Puri. It was earlier known as bhat payasa in Orissa.
Contributed by
Sujata Satpathy
Your Feedback Please
All Feedbacks
Sunita Priyadarsini - "Any thing special about Odia Khiri? I mean how it's different from khir of other states?"
Kailash Chandra Behera - "Any twist in the recipe? Like adding paneer or khua etc."
Mamun - "Odiya Khiri is different because we stir the rice in desi ghee for some time and then use it. So taste is different."