Kolatha Dali
କୋଳଥ ଡ଼ାଲି
---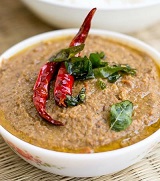 About the Recipe
Horse gram, or 'Kolatha Dali', as it is called in Odisha, is good in nutrition. It is popular in the western Odisha, and is prepared in several ways. We present here one of such recipes. It tastes great if served with rice and fried vegetables, especially in the winter season.
Ingredients
150gm horse gram (kolatha dali)
100gm rice flour (chaula gunda)
2 brinjals (baigana)
2 potatoes (aalu)
2-3 tomatoes (tamatar)
1-2 drumsticks (sajana chhuin)
2 lima beans (simba)
50 gm pumpkin (kakharu)
1 teaspoon mustard seeds(sorisha)
50gm garlic (rasuna)
2 teaspoon mustard oil (sorisha tela)
Salt to taste

Method
Boil the kolatha dali (horse gram) in pressure cooker. Cut and wash all the vegetables. Make a mixture of rice flour and water. Add the vegetables to the cooked kolatha dali and place the cooker on the flame with its lid open. Add salt. As soon as the vegetables start boiling, add the flour mixture and go on stirring continuously. Fry mustard seeds and garlic in mustard oil and add to the prepared kolatha dali. Now your Kolatha Dali is ready. It should be served hot.
Contributed by
Subhadarsini
Your Feedback Please
All Feedbacks