Arisa Pitha
---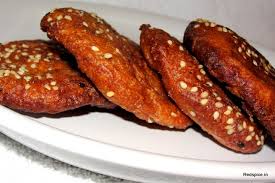 About the Recipe
Arisa Pitha may be put under the category of traditional pancakes of Odisha. This tasty pancake is prepared especially on the occasion of Manabasa Lakshmi Puja in the month of Margashir. The dry and hardened Pitha, sweet is in taste, and is basically made of rice.
Ingredients
2 cups rice (chaula)
1 cup sugar (chini)
½ litre refined cooking oil (rifaain tela)
1 tablespoon sesame seeds/ til (rashi)

Method
Soak the rice in water for about 3 hours. Wash it with water and then drain all the water. Keep the rice in room temperature to dry for about 10 minutes. Then grind it to make a powder of it by using a mixer/grinder. Heat ½ cup of water in a pan and add the sugar. As you go on stirring on medium flame, the boiling water forms a syrup. The syrup should be consistent. You may test whether the syrup is ready, by putting a drop of the syrup into a bowl of water. It the drop of syrup doesn't get dissolved in water and remains apart then your syrup is ready. Then slowly add rice powder to the syrup and stir continuously to form a batter. After the batter or dough is ready, keep it aside. Grease your palms with a little oil. Now take the batter in small portions and flatten the it with the help of your palms to give them the shape of a thick puri or kachori .You may add the sesame seeds ('til') to the dough at this stage. Then fry the thick puris (pithas) in oil till they become golden brown. Take them out and serve hot. The pitha also tastes great if served after cooling. After cooling it gets hardened and a hard pitha may be preserved in room temperature for about two weeks.
A feedback from a visitor says that she couldn't prepare this pitha in proper manner after following the steps. The solution lies in getting the right consistency ("paga") of the batter or dough that you get after adding sugar syrup to the rice powder. As you try again and again, experience would tell you how to reach the right consistency.
Also see a video of the recipe at the following link.
Contributed by
Sujata Satpathy
Video of the Recipe
Your Feedback Please
All Feedbacks
Sunita Priyadarsini - "Its the best of all Odia pithas."
Mamun - "Thank you for the recipe."