Ghanta
ଘାଣ୍ଟ
---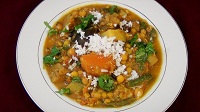 About the Recipe
The word 'Ghanta' is derived from the Odia verb "ghantiba" (to mix and stir). This receipe in simple terms is a mixing together a variety of vegetables. You may even expt please avoid experiment with new kind of vegetables, other than what''s mentioned here. But avoid exotic vegetables, and confine to 'desi' varieties only.
Ingredients
50 gm arum (saru)
50 gm potato (alu)
50 gm yam (desi alu)
50 gm pumpkin (kakharu)
50 gm striped pear gourd/ parwal (potala)
2 tomatoes (tamatar)
5-6 lima or indian beans (simba)
7 french beans (bin)
4 long beans (jhudunga)
1 brinjal (baigana)
total 1 cup of dry yellow matar /kabuli chana/lima beans seeds (matar chana+kabuli chana+ simba manji)
½ tablespoon turmeric powder (haladi gunda)
1 medium sized ginger (ada)
5 garlic cloves (rasuna kola)
1 onion (piaja)
2 bay leaves (teja patra)
1 tablespoon cumin seeds (jeera)
1/2 teaspoon mustard (sorisha)
4 red chillies (sukhila lanka)
1 tablespoon scrubbed coconut (Nadia Kora)
½ cup coconut – cut into small pieces (kata nadia)
1 tablespoon refined oil (rifaain tela)
salt to taste (luna)

Method
Cut the vegetables after thoroughly washing them. Boil all the pulse seeds after soaking them in water for about 8 hrs. Make a paste of onion, ginger, and garlic. Fry cumin seeds and red chilies in a pan and then make rough powder of the same. Boil all the cut vegetables, pre-boiled seeds, coconut pieces. Add salt, turmeric powder, bay leaves. Take a tablespoon of oil in another pan and put it on medium flame. Add ½ teaspoon each of cumin seeds and mustard to it. When mustards start cracking add the paste of onion, garlic and ginger and stir well. After the paste turns golden brown, add the boiled mixture of vegetables etc. and stir continuously. Put the pan on low flame for 3 to 4 minutes. Add the cumin seeds and red chilli powder to the pan and stir well. Now your Ghanta is ready to be served.Garnish it with scrubbed coconut before serving.
Contributed by
Asha LataTripathy
Your Feedback Please
All Feedbacks