Mudhi Ghanta
ମୁଢି ଘାଣ୍ଟ
---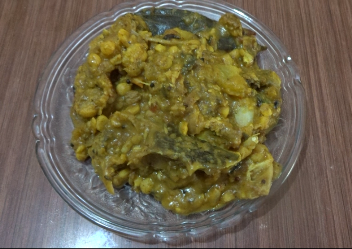 About the Recipe
It is a delicious dish from Odisha in which the head pieces of fish such as Rohu and Bhakur are used. It's a variant of another dish named as Chinchada in which also fish heads are used. The basic difference being that in the former lentils are added it for a finer taste.
Ingredients
2 head pieces of fish (machha munda)
½ cup split chickpeas (chana dal / buta dali)
½ cup red lentils (masoor dal / masoori dali ) 1 large onion (piaja)
2 potatoes (alu)
200 gm pumpkin (kakharu)
1 tomato (tamatar)
2 inch ginger (ada)
5 cloves of garlic (rasuna kola)
2 tablespoon mustard oil (sorisha tela)
2 teaspoon turmeric powder (haladi gunda)
1 teaspoon cumin powder (jeera gunda)
2 teaspoon coriander powder (dhania gunda)
1 teaspoon chili powder (lanka gunda)
½ teaspoon mustard seeds (sorisha)
½ tea spoon coriander seeds (jeera)
1 teaspoon garam masala powder/ blend of ground spices (garam masala gunda)
2 pieces of dry chili (sukhila lanka)
2 bay leaves (tej patta/ teja patra)
salt to taste (luna)

Method
First of all soak the split chickpeas (chana dal) and red lentils (masoor dal) in water for about 20 minutes. Then marinate the fish heads with turmeric powder and salt. Cut the potatoes, pumpkin, tomato into pieces. Also slice the onions. Make a fine paste of the garlic and onion by using a grinder or mixer. Then heat mustard oil in a pan. Add the pieces of fish head. Sauté for a while till they become golden brown. Then take some oil in a pressure cooker without putting the lid on. After the oil heats up add the bay leaf (tej patta) along with mustard seed and cumin seeds and stir till they splutter. Now add the vegetables. Also add turmeric powder, chili powder and salt to taste. Stir the vegetables well for a while. Now add the split chickpeas (chana dal) and red lentils (masoor dal) which you had soaked earlier. Stir again. Then add some water to the pressure cooker and cover the lid to make the lentils and vegetables get boiled. Take a little oil again another pan. Splutter a little mustard and cumin seed. Add the sliced onion. Stir till the onion turns golden brown. Then add the paste of ginger and garlic. Also add the cumin powder and coriander powder now. Further add a little turmeric powder and chilli powder also. Then add the sliced tomatoes. Stir and sauté well. Now add the fried pieces of fish head. Mix well and stir. Take the lentils vegetables which we earlier boiled in a pressure cooker and ad them to the pan containing the fried fish heads. Stir well, and cook for a while. At this stage you may add a little 'garam masala' powder. Cover the pan for about a minute to let it all get cooked. Your Mudhi Ghanta is now ready. It may be served with rice.
You may see a video of this recipe at the following link.
Video of the Recipe
Your Feedback Please
All Feedbacks