Sajana Saga Kharada
ସଜନା ଶାଗ ଖରଡ଼ା
---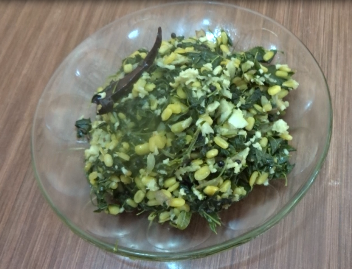 About the Recipe
The 'Sajana' tree is also known differently in most part of India, such as Moringa, Sahjan, Muniga os simply as the Drumstick tree. Its botanical name is Moringa oleifera. While the uses of its stick like fruits (called drumstick) as a vegetable is wide spread, what remains mostly unknown is that the green leaves of the tree may also serves as an ingredient for a delicious and healthy dish. It is said that it contains It antimicrobial and antibacterial properties. This typical recipe is found in the Odia homes. We also have another recipe else where on this website/ app where vegetables are added to this dish.
Ingredients
Leaves of Sajana (Moringa/ Sahjan/ Muniga leaves)
Yellow split gram (Mung Dal/ Muga Dali)
Onion (Pyaj/ Piaja)
Garlic (Lehsun/ Rasuna)
Mustard seeds (Sarson/ Sorisha)
Red chili (Sukhi lal mirch/ Sukhila Lanka)
Cononut (Nariyal/ Nadia)
Refined oil or Mustard oil (Refine Tel/ Saron ka Tel/ Sorisha Tela)
Salt to taste (Namak/ Luna)

Method
First of all carefully pluck the Sajana leaves out of the bunch of twigs. Wash them clean. Then slice the onion. Scrub or grate the coconut. Also slightly crush the garlic cloves. To start the cooking, place a pan on the stove. First of all let us boil the Sajana leaves and Mung Dal in water for a while. Add salt to taste. Then stir in between as you boil this till the water component gets almost evaporated. Now we would prepare the "tadka" or the seasoning by using another pan. For this, fist of all take a little oil. Let it heat up. Then add the mustard seeds, dry chilli, the crushed garlic cloves, and the slices of onion. Sauté it all till the onion turns golden brown. Then transfer the seasoning to the Sajana leaves aga and mung dal which we boiled together some time back. Also add the scrubbed or grated coconut to it and then cook it for a while, and stir it in between till all the water content vanishes. Now your Sajana Saga Kharada is ready to be served.
Contributed by
Sunita Tripathy
Video of the Recipe
Your Feedback Please
All Feedbacks
Bikash Mohapatra - "My favourite"