Poi Chingudi
ପୋଇ ଚିଙ୍ଗୁଡ଼ି
---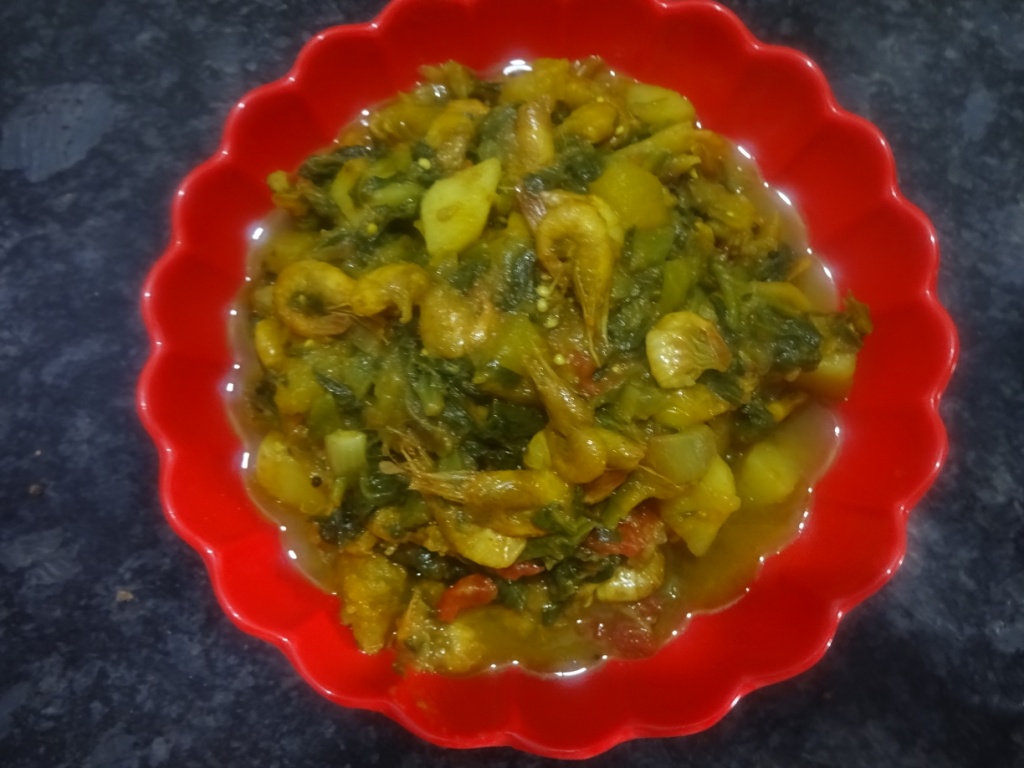 About the Recipe
Poi Chingudi is a non-vegetarian delicacy with the tasty combination of the Poi leaves and shrimp. It's so delicious that its taste lingers on in one's mind for long. This is one of the popular dishes among the traditional recipes of Odisha.
Ingredients
Small sized shrimp (Jheenga/ Chingudi)
Malabar spinach (Poi Saag)
Pumpkin (Kaddoo/ Kakharu)
Brijal (Baigan)
Potato (Alu)
Tomato (Tamatar)
Ginger (Adrakh/ Ada)
Garlic (Lehsun/ Rasuna)
Onion (Pyaj/ Piaja)
Mustard oil (Sanson ka tel/ Sorisha tela)
Cumin seeds (Jeera)
Mustard seeds (Sarson/ Sorisha)
Turmeric powder (Haldi powder)
Chili powder (Lal mirch powder/ Maricha gunda)
Salt to taste (Namak/ Luna)

Method
It is better to use the tiny sized shrimp, that is Jheenga in Hindi and Chingudi in Odia. Wash and clen it thoroughly. Then let us marinate the shrimp with a little turmeric powder and common salt. Next let us cut or chop the Poi leaves into medium pieces. Slice the onion. Also cut the vegetables into small pieces. Now we would make paste of onion, garlic and ginger by using a mixer or grinder. Next put the pan on the stove and take a little oil. We would fry the shrimp in the oil. After the oil gets heated add the marinated shrimp and stir. Then again take oil in a pan. This is for making tadka. Add mustard seeds and jeera, and stir. After the mustard seeds begin to crackle, add the sliced onion and continue stirring. After the onion turns golden brown, add the paste of garlic, onion and ginger that you made and mix it well. Now add the sliced tomato and sauté. Also add turmeric powder and chili powder. Then add all the vegetables which you have already cut into small pieces and sauté further. Now it's time to add the Poi leaves. Mix it well and stir a little. Add salt to taste. Now add all the fried shrimp to it and go on sautéing. Then add a little water so that all this get boiled well. Cover the lid of the pan. Lower the flame of the stove and leave it for a while to get it cooked properly. In between also stir it once or twice. And then your Poi Chingudi is ready.
You may also see a video of this recipe at the following link.
Contributed by
Gayatri Tripathy
Video of the Recipe
Your Feedback Please
All Feedbacks