Nadia Pachedi
ନଡ଼ିଆ ପାଚେଡ଼ି
---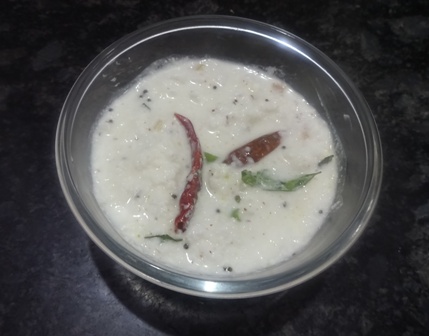 About the Recipe
In the community dinners on various occasions the 'Nadia Pachedi' is served as a side dish in Odisha. It is also known as 'Dahi Nadia' since the curd and coconut are the major ingredients of this simple recipe.
Ingredients
Coconut (Nariyal/ Nadia) Yogurt / Curd (Dahi) Curry leaves (Kari patta/Bhursunga Patra) Green Chilli (Hari Mirch/ Kancha lanka) Ginger (Adrak/ Ada) Red chilli (Sukhi Lal Mirch/ Sukhila lanka) Mustard seeds (Sarson/ Sorisha) Salt (Namak/ Luna) Mustard oil (Sarson ka tel/ Sorisha tela) Sugar (Chini) - Optional
Method
To begin with scrub the coconut with a common scrubber. If don't have a scrubber, you may even use a mixer or grinder to make the scrubbed coconut. Finely chop the green chillies and ginger. Then add a little water to the curd if so required. Stir it a little. Add salt according to your taste. You may also add a little sugar. But it's optional. You may skip this, if you don't like a partially sweet kind of taste. Then add the scrubbed coconut. Mix it well. Then also add the finely chopped green chilli and ginger. Now we have to prepare the Tadka. For this take a little oil in a pan. Heat it and add the mustard seeds, red chilli and curry leaves. After the mustard seed crackles add it back to the mix of coconut scrub and curd. Now your Nadia Pachedi is ready. You may serve it as a side dish with rice.
Contributed by
Asha Lata Tripathy
Video of the Recipe
Your Feedback Please
All Feedbacks
AKSHAY KUMAR PANIGRAHI - "GREAT. PLEASE KEEP POSTING SUCH TYPE OF ORIYA RECIPES."